Plan & Relocate
Move Plan, Audit Check, Decommissioning and Packing, Transport, Recommissioning & sign off
Relocation, mergers, and growth can require substantial and complex changes to your IT infrastructure. We'll provide the expert support you need, carefully managing your relocation to ensure everything works smoothly from day one of your move.
Relocating?
There's a lot to think about, whether you're relocating into a larger space, setting up a brand new venture, opening multiple additional sites, or even moving to the Cloud. Your IT infrastructure includes all the vital equipment and services that you need to operate on a daily basis – from servers, networks and PCs, to phone systems, phone lines and connectivity.
It's critical that you pick the right partner with plenty of experience of in relocating and with the expertise to minimize both risk and actual problems. A great start is finding someone who understands all your systems – essential IT, telecom's and communications. One who is also sympathetic to your business needs and not just the technical aspects.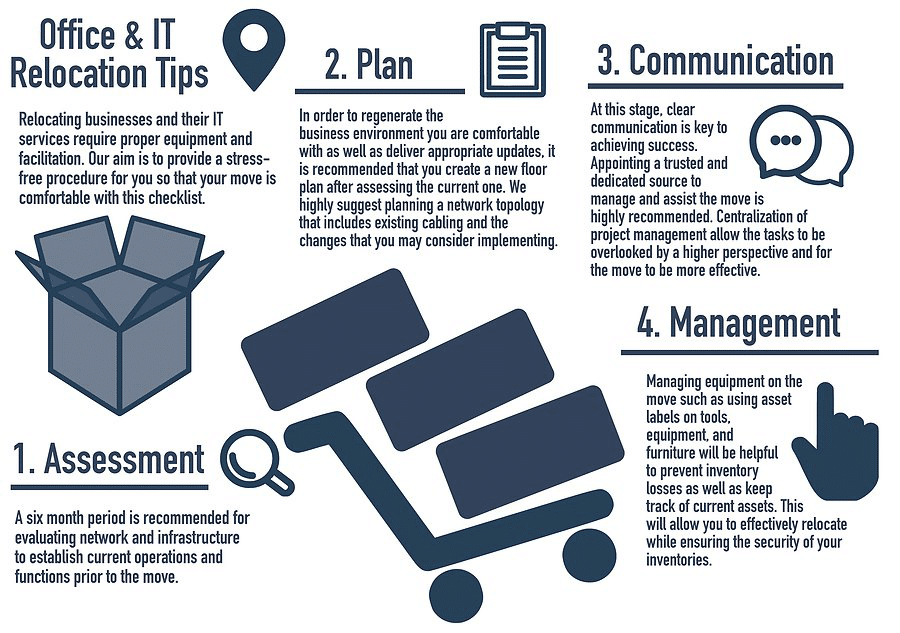 We will make sure everything goes smoothly. You can trust us to complete your move on time and on budget, avoiding costly outages and minimizing disruption to your operations.
Disruption to business operations must be kept to a minimum: we're always happy to fit in with your needs when planning your office move. So it's fine us to carry out the move outside your normal working hours, perhaps over a weekend, so you can keep trading as usual.
IT needs analysis & audit
Planning & Management
3rd party collaboration
Backup & Contingency planning
Decommissioning & Relocation
Setup & Testing
Initial Hand Holding
Want to relocate with us?